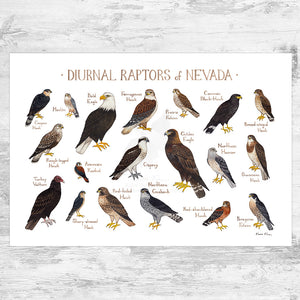 Nevada Diurnal Raptors Field Guide Art Print
This print of a watercolor painting features the Diurnal Raptors of Nevada as a field guide chart. It features the following raptors:
American Kestrel 

Bald Eagle

Broad-winged Hawk

Common Black-Hawk

Cooper's Hawk

Ferruginous Hawk

Golden Eagle

Merlin

Northern Goshawk

Northern Harrier

Osprey

Peregrine Falcon 

Prairie Falcon

Red-shouldered Hawk

Red-tailed Hawk

Rough-legged Hawk

Sharp-shinned Hawk

Swainson's Hawk

Turkey Vulture
See the Owls collection for the nocturnal raptors!
This is a large signed print of the original piece, printed on 19" x 13" inch 68lb. UltraPro Satin paper from Red River Paper. This satin finish paper results in a vibrant print that is lightly textured which reduces glare and fingerprints.
It is packaged in an archival poly bag and ships in a tube.
---
More from this collection